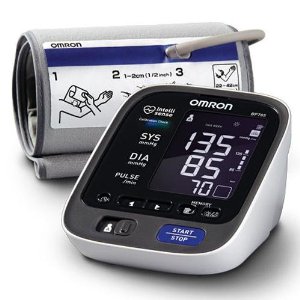 My husband and I are both critical care cardiac nurses and understand first hand the importance of keeping blood pressure under control. One of the first steps to controlling blood pressure is knowing what your blood pressure is. Spot checking blood pressure at a doctor's office is a very poor indicator of what your blood pressure trends actually are. Daily monitoring at points throughout the day (for example, at wakeup and bedtime) is a much better indicator for you and your healthcare provider to make informed decisions regarding blood pressure management.

We received the Omron BP785 blood pressure monitor for free to review. It is first off very easy to use. It fits both my wife and my arms well, even though they are quite a bit different in size. The cuff with the base station are a bit more bulky than some other all-in-one systems I have seen, but in my opinion this is worthwhile for the benefits of the Omron BP785. You will probably want to keep you monitor plugged in with the included AC adapter in one place because of the size. Nevertheless, it is small enough that you shouldn't have a problem taking it with you if you are planning and extended trip.

1. It is accurate and consistent: When compared to checking my blood pressure on thousand dollar plus systems at the hospital where I work, the Omron BP785 gave numbers in the exact same range. It is consistent. When taking my blood pressure multiple times a few minutes apart, the numbers were consistent. When I tested my grandparents inexpensive all-in-one blood pressure monitor, I found that the results would often vary by more than 20 points over different readings at the same time. It is for this reason primarily that I recommend the Omron BP785.

2. It remembers readings. The Omron BP785 will store up to 100 results. That's three months of results if you take you blood pressure once daily and a month and a half if you do it twice a day. That is an incredibly powerful data set to help you and your healthcare provider make informed decisions regarding your blood pressure management and medication dosing. There is even an average function to provide a single number average of all blood pressure readings.
Each user has 100 results of storage, for a total of 200 if there are two users.
I recommend recording your daily blood pressure measurements in a journal along with your monthly averages to share with your physician or healthcare provider. The Omron BP785 makes this easy.

3. Two users: Two users can use the Omron BP785 and each user's results are stored separately and averaged separately. This is a key feature for a household where two people (i.e. husband and wife) would like to use the monitor and still take advantage of its result storage and averaging features.