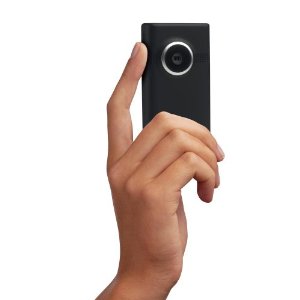 Amazon.com has a sale on the Flip MinoHD Video Camera. Today only it is on sale on Amazon.com for $139 (normally $179). Also, not necessary, but sorta cool they are offering a Delkin Jellyfish Floating Waterproof Accessory Kit. It seems sorta cool to protect the camera if you were at the beach. In order to get that deal just scroll down to "special offers" and click on "add both to cart" at check-out the price of the waterproof kit will be removed.
I love are flip video it is smaller than my phone and I keep it in our kitchen, so that is covenient to grab for those fun little momements that you wish you had on video. It takes seconds to get it recording.
Here's a little clip I took on ours.

Here's Amazon.com's overview of the camera:
Shoot up to two hours of best-ever HD video—now with image stabilization for incredibly clear and steady video
Carry it anywhere with its sleek and slim design that fits in any pocket or purse
Comes with 8 GB of built-in memory, letting you capture 2 hours of HD video; no additional memory required
Power on, press record and start recording—it's that simple
Watch your videos on the large, 2" anti-glare color display
Connect the flip-out USB arm directly into your PC or Mac® to launch pre-loaded FlipShare™ software
Use FlipShare software to organize and edit your videos, capture photos, send video greeting cards and create custom movies
Share videos privately using FlipShare's attachment-free email or by creating Flip Channels; post publicly with direct video shares to Facebook™, YouTube™ and Twitter™
Charge the internal Lithium-ion battery through the built-in USB arm; also recharges quickly when connected to Flip Video Power Adapter [sold separately]
Watch your videos on your HDTV through the Flip Video HDMI™ Mini Cable (type C) [sold separately]
Features a flat-back panel with touch-sensitive, backlit buttons
Records high-quality H.264 videos that are compatible with most video-playing applications, including Windows Media Player, QuickTime Player and iTunes
Video: 16:9 widescreen, HD 720p (1280 x 720) at 60 frames per seconds (fps) progressive scan; recorded as MP4 files
Included in package: Flip MinoHD

video camera, wrist strap, soft protective case, user guide
We love ours and were really pleased with the improved quality of the HD flip.